What is Enterprise Resource Planning?
ERP stands for Enterprise Resource Planning. It is a type of business management software that allows organizations to integrate and automate various business processes, such as inventory and order management, accounting, human resources, customer relationship management, and other core business functions.
ERP systems are designed to streamline workflows, enhance collaboration, and provide real-time visibility into key business metrics. By consolidating data and automating processes, ERP systems can help organizations improve their efficiency, reduce costs, and make more informed decisions.
After implementing an ERP solution, it's common to shift focus towards add-ons, improvements, or even migrations to the chosen solution. However, selecting the right ERP provider in today's ever-changing technical landscape can be challenging. It's important to understand the different types of ERP solutions available, each tailored to meet the specific needs of businesses based on their nature, size, and organizational requirements.
This is a traditional ERP solution that is installed and managed locally on the servers of an organization. It provides complete control over the system and can be customized to the specific needs of the organization.
Cloud-based ERP solutions are hosted on the servers of the ERP vendor and are accessible via the internet. They are generally easier to implement and scale than on-premises ERP systems, and usually offer lower initial costs.
This is a combination of on-premises and cloud-based ERP solutions. Companies may choose to manage their core business processes locally while running less critical processes via the cloud.
These are ERP systems designed for specific industries, such as manufacturing, retail, or healthcare. They are usually pre-configured with specific features and workflows that are specific to the industry.
Open source ERP solutions are ERP systems whose source code is freely available and can be customized and adapted to the needs of an organization. This can offer lower costs and greater flexibility, but generally requires more technical expertise.
Looking to optimize your business processes and improve efficiency?
Our team of expert consultants is here to help. Highly qualified and experienced consultants are based in Sri Lanka but available to provide on-location support to clients throughout Europe. We are dedicated to providing the highest quality of service at the most competitive rates.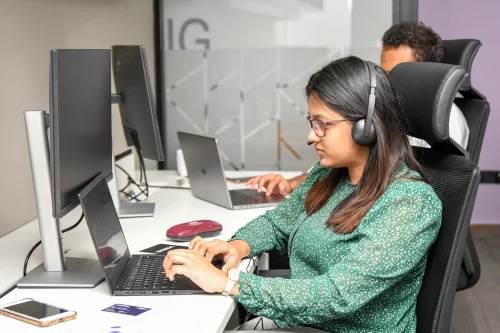 IFS ERP (Enterprise Resource Planning) is a comprehensive business management software solution designed to help companies manage their business operations more efficiently. It provides end-to-end functionality for core business processes including finance, manufacturing, supply chain management, human resources and customer relationship management.
IFS ERP is known for its flexibility and adaptability, allowing companies to tailor the software to their specific business requirements. It provides industry-specific features and workflows for various industries, including aerospace and defense, automotive, energy, and utilities.
IFS ERP provides a single source of truth for data and analytics, enabling businesses to make informed decisions based on real-time information. It also provides mobile access to the system, enabling employees to access critical information on the go.
All in all, IFS ERP is a robust and adaptable solution designed to help companies optimize their business processes, increase efficiency and improve profitability.
Implementation, migration and long term support
Our team of experienced consultants specializes in IFS ERP, offering deep knowledge and expertise to help your organization implement and optimize your ERP solution. Whether you need help with implementation, customization, or ongoing support, we are here to help you achieve your business goals.
So if you're looking for expert ERP consultants with a focus on IFS ERP, look no further than our team. Contact us today to learn more about how we can help your organization achieve its goals with IFS ERP.
Expand your digital expertise!
Ready to take your digital expertise to the next level? Get in touch and we'll help you build your ideal development team or application!